I have always had a deep love for elephants. I think they are incredible creatures and have so many human like qualities that make them relatable. They are the gentle giants of the african plains and graceful grazers of the asian forests. Everything about them I have always enjoyed studying from the very first elephant toy to the countless documentaries I have seen. With all that said you can imagine my excitement when I found out that on my trip to Kenya we would be stopping at The David Sheldrick Widlife Trust.
If you don't know what that means, here's who they are: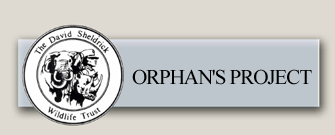 Mission statement
The David Sheldrick Wildlife Trust embraces all measures that compliment the conservation, preservation and protection of wildlife. These include anti-poaching, safe guarding the natural environment, enhancing community awareness, addressing animal welfare issues, providing veterinary assistance to animals in need, rescuing and hand rearing elephant and rhino orphans, along with other species that can ultimately enjoy a quality of life in wild terms when grown.
One of the main ongoing projects at the trust is their orphan project which includes rescuing and hand-rearing orphaned elephants. I couldn't wait to get there.
What they say about the elephant orphan project:
At the heart of the DSWT's conservation activities is the Orphans' Project, which has achieved world-wide acclaim through its hugely successful elephant and rhino rescue and rehabilitation program. The Orphans' Project exists to offer hope for the future of Kenya's threatened elephant and rhino populations as they struggle against the threat of poaching for their ivory and horn, and the loss of habitat due to human population pressures and conflict, deforestation and drought.

To date the David Sheldrick Wildlife Trust has successfully hand-raised over 150 infant elephants and has accomplished its long-term conservation priority by effectively reintegrating orphans back into the wild herds of Tsavo, claiming many healthy wild-born calves from former-orphaned elephants raised in our care.
You pre-book a place beforehand and pay a small fee to go and see the elephants, usually when they get back from a walk and go to bathe. The keepers hand feed them using bottles of specially mixed milk. It's a great sight to see and if you love elephants then you'll be in your element. Its great to see the elephants playing around and messing about in the mud with each other and whats also great to see is the bond the keepers share with each individual animal. The keepers become their surrogate parents and are with them 24/7 feeding, walking, bathing, playing and sleeping.
Your given the opportunity to adopt an elephant and donate towards the upkeep of the trust. Of course I did this when I was there, it was about £30 ($50) you can obviously pay more than this if you wish. Adopting an elephant let me re-visit the trust at the end of my trip to help put young Kibo (my adopted elephant) to bed as well as help bottle feed him. It finished my trip in Kenya on a high and was great to get a real intimate personal time with the orphaned elephants who were all a lot more inquisitive once there wasn't a crowd of people around and just as playful! You also get regular updates about your elephant even after they grow up and introduced back into the wild, I often get e-mails telling me how Kibo and the new orphans are getting on.
I'd really recommend visiting this place and I'm sure you'll agree seeing the amazing work they are doing to help orphaned animals all over Africa. Keep supporting this essential wildlife trust. You also see some rhino and giraffes whilst your there!
If you'd like to see more of my travel photos from Kenya or my other photography then check my social links!
If you'd like to keep up with my adventures and get social;
Facebook | Twitter | Instagram | Youtube
Travel. Create, Be Nice!